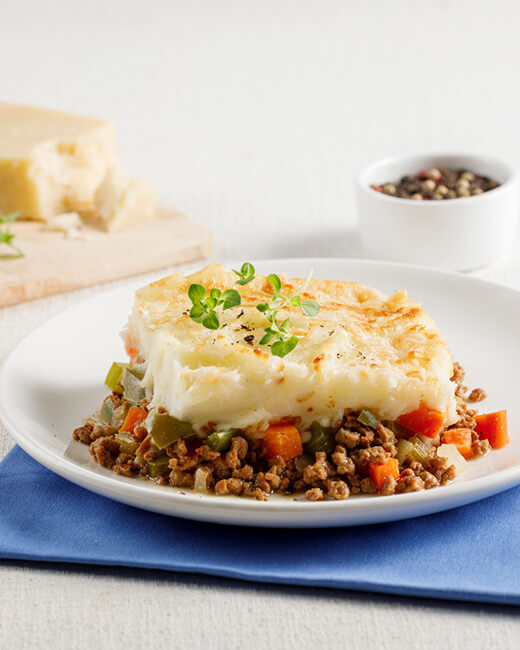 Servings

4

Prep Time

15 mins

Cooking Time

33 mins
Vegetarian Shepherd's Pie
In the mood for some shepherd's pie? Come on down! This recipe consists of no more than FIVE ingredients! But don't worry, it's just as amazing and hardy as the classic recipe, there's just one twist… there's no meat.
Ingredients
2 pouches So Veggie "So Wise!" Veggie Ground
500 ml (2 cups) of fresh vegetables blend for spaghetti sauce
160 ml (2/3 cup) of vegetable broth
1 container of 680 g of mashed potatoes
125 ml (1/2 cup) grated parmesan cheese
Recipe
1. Preheat oven to 205 °C (400 °F).
2. In a large skillet, heat a little olive oil on medium heat. Sauté the So Veggie "So Wise!" Veggie Ground for 1 to 2 minutes. Add the vegetable blend and continue cooking for 2 to 3 minutes.
3. Add the vegetable broth to the skillet and simmer, for 5 to 7 minutes, until almost all of the liquid has evaporated.
4. Transfer the mixture to a 20 cm (8 in) square baking dish. Even out and smooth the surface. Cover with mashed potatoes and sprinkle with parmesan cheese.
5. Bake in the oven for 25 to 30 minutes.