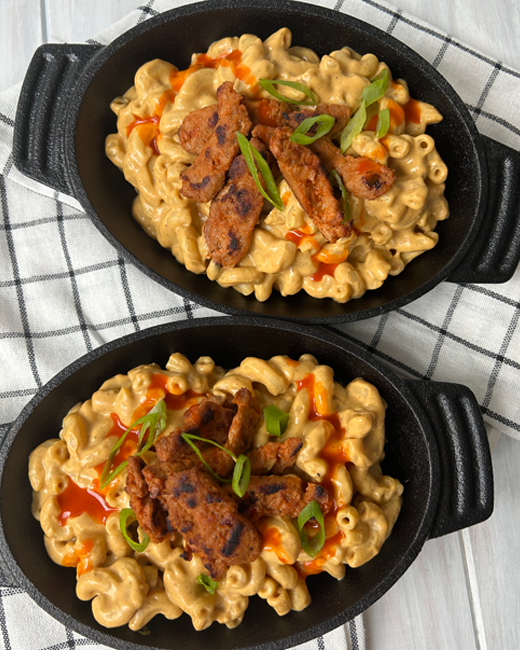 Servings

4

Prep Time

15 mins

Cooking Time

20 mins
Vegan buffalo Mac & Cheese
This vegan macaroni and cheese has everything to please the whole family. The combination of our Veggie Mince marinated in buffalo sauce and butternut squash cheese sauce will satisfy your craving for macaroni and cheese while offering a healthier alternative.
Ingredients
315g macaroni
¼ cup buffalo sauce
1½ tbsp vegetable butter
½ white onion
1 small butternut squash, peeled and seeded
1 tsp. garlic powder
½ tsp. onion powder
¼ tsp. salt
pepper to taste
1 container (250 ml) soy cream
3 tbsp. nutritional yeast
1 cup grated cheddar cheese
1 green onion, sliced
* You can also marinate the Veggie Mince in buffalo sauce the day before if you wish.
Recipe
1. Mix fillets with sauce. Set aside.
2. Cook macaroni according to package instructions.
3. Cook sliced onions in butter for about 2 minutes until golden brown.
4. Add cubed butternut squash and cook for approx. 6 minutes. Add spices: garlic powder, onion powder, salt and pepper. Continue cooking for 4 to 6 minutes, until cubes are fork-tender.
5. For the sauce, blend the squash mixture in a food processor with the soy cream and nutritional yeast.
6. Use the same pan to grill the meatless fillets for 2-3 minutes. Set aside.
7. Pour the processed sauce back into the same pan, then add the cheddar cheese. Whisk until smooth and creamy.
8. Add macaroni.
9. Serve in bowls, garnished with meatless fillets and green onions.