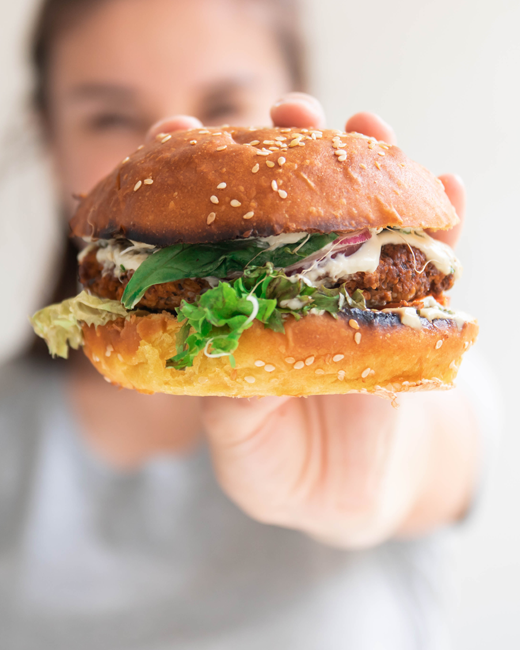 Servings

6

Prep Time

20 mins

Cooking Time

20 mins
The Sooo Burger
You'll agree that this veggie burger is SOOOO good! You'll want to make it over and over. It has a beef-like texture and is great fried or grilled on the BBQ. Top it with your favourite toppings, and enjoy with family and friends.
Ingredients
1 cup canned black beans, rinsed
4 cups low-sodium vegetable broth
1 onion, chopped
3 cloves garlic, chopped
2 tsp. Worcestershire sauce (or vegan alternative)
3 tbsp. olive oil
1 tbsp. tomato paste
2 tsp. smoked paprika
1½ tsp. Montreal steak spice
½ cup rice flour
4 tbsp. tapioca starch
Recipe
1. Cook onion and garlic in 1 tbsp olive oil over medium heat until tender.

2. In the bowl of a food processor, add the sautéed onion and garlic, black beans, tomato paste, Worcestershire sauce, olive oil and spices and pulse until a chunky texture is obtained.

3. Add the veggie ground to the mixture in the food processor, pulsing only a few times.
4. Pour the contents into a mixing bowl, and add the rice flour and tapioca starch. Stir together until everything is incorporated together.

5. Form into patties and cook on both sides in an oiled frying pan over medium-low for 5 minutes.