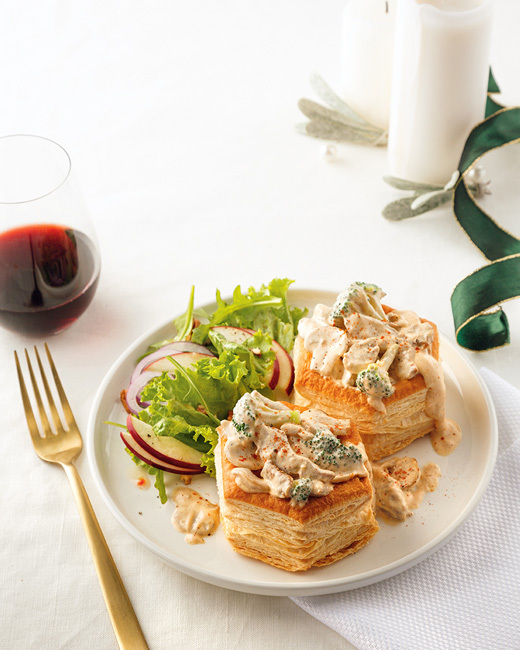 Servings

4

Prep Time

20 mins

Cooking Time

8 mins
Vol-au-vent with creamy mushroom and broccoli sauce
Ingredients
15 mL (1 tbsp.) olive oil
1 container 227g white mushrooms, sliced
80 mL (1/3 cup) white wine
2 containers of creamy soy sauce (Belsoy type), 250 mL each
250 mL (1 cup) grated vegan Parmesan cheese
10 mL (2 tsp.) Cajun spices
375 mL (1 1/2 cups) broccoli, cut into small florets
Salt and pepper to taste
Recipe
1. Preheat oven to 180°C (350°F).
2. On baking covered with parchment paper, place the vol-au-vent. Heat in the oven for 5 to 7 minutes.
3. Meanwhile, heat oil in a skillet over medium heat. Cook the mushrooms for 5 to 8 minutes.
4. Pour in white wine and allow to reduce completely. Add creamy soy mixture, vegan parmesan, and Cajun spices. Stir and bring to a boil.
5. Add broccoli and Veggie fillets, then season with salt and pepper. Simmer for 3 to 4 minutes on low-medium heat.
6. Garnish the vol-au-vent with the preparation and serve.