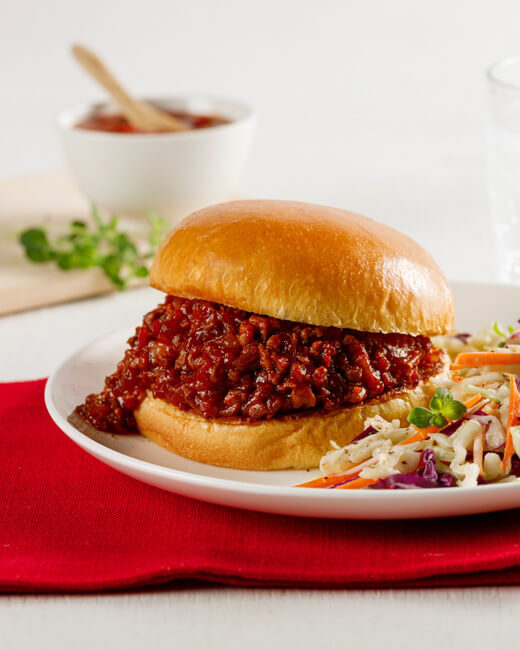 Servings

4

Prep Time

15 mins

Cooking Time

13 mins
Veggie Sloppy Joe
Just as fun and definitely as delicious, our Veggie Sloppy Joe is the way to go! This recipe is made with our So Veggie "So Wise!" mince, it is a great substitute for the classic, kid-favourite sandwich.
Ingredients
2 pouches So Veggie "So Wise!" Mince
180 ml (3/4 cup) ketchup
30 ml (2 tsp) soy sauce
180 ml (3/4 cup) chili sauce
4 hamburger buns
1 onion, diced
Recipe
1. In a skillet, heat a little olive oil on medium heat. Sauté the onion for 1 minute.
2. Add the So Veggie "So Wise!" Veggie Mince and cook for 2 to 3 minutes, stirring constantly.
3. Add the ketchup, soy sauce and chili sauce. Season with pepper and stir. Continue cooking for 8 to 10 minutes over low heat.
4. Heat another skillet over medium-low heat. Toast the hamburger buns for 30 to 45 seconds.
5. Top the buns with the Veggie Mince.