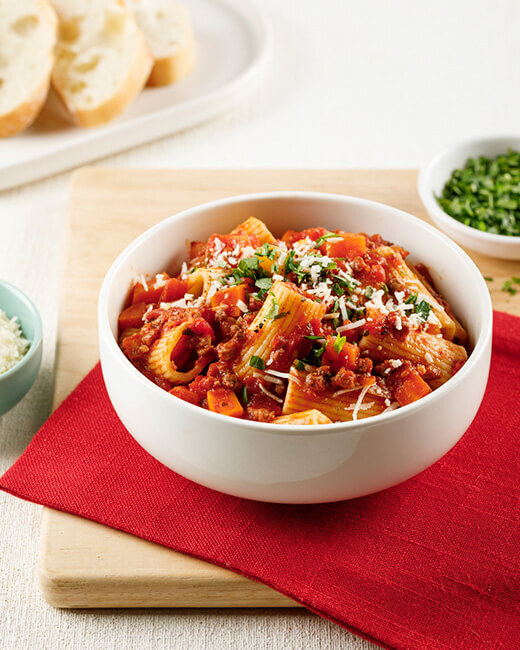 Servings

6

Prep Time

20 mins

Cooking Time

38 mins
Rigatoni & Veggie Ragu
They say you can't have it all? With this recipe you can! Although we all love pasta, our sauce is no doubt the star of this dish! It's simple yet "saucy" and is made with our So Veggie "So Wise!" mince. You'll never go back to your regular "Bolognese" after tasting this plant-based version.
Ingredients
15 ml (1 tbsp) of olive oil
3 pouches So Veggie "So Wise!" Veggie Ground
2 carrots, diced
1 onion, chopped
15 ml (1 tbsp) of garlic, chopped
160 ml (2/3 cup) of red wine
60 ml (1/4 cup) of tomato paste
1 can of 796 ml of diced tomatoes
625 ml (2 ½ cups) of tomato sauce
30 ml (2 tbsp) of fresh oregano, chopped
15 ml (1 tbsp) of sugar
Pepper to taste
1 litre (4 cups) of rigatonis
125 ml (1/2 cup) of grated Parmesan
60 ml (1/4 cup) of fresh parsley
Recipe
1. In a saucepan, heat the oil over medium heat. Sauté the So Veggie "So Wise!" Veggie Ground for 1 to 2 minutes while stirring.
2. Add the carrots, onion and garlic. Cook for 2 to 3 minutes. Add the wine and allow to reduce by half.
3. Add the tomato paste, diced tomatoes, tomato sauce, oregano and sugar. Pepper. Bring to a boil, then simmer for 35 to 40 minutes over low-medium heat, stirring regularly.
4. About 10 minutes before the sauce is finished cooking, cook the pasta al dente in a pot of salted boiling water. Drain.
5. Add the pasta to the saucepan with the sauce and stir. Heat for 1 minute.
6. When ready to serve, garnish with Parmesan and parsley.