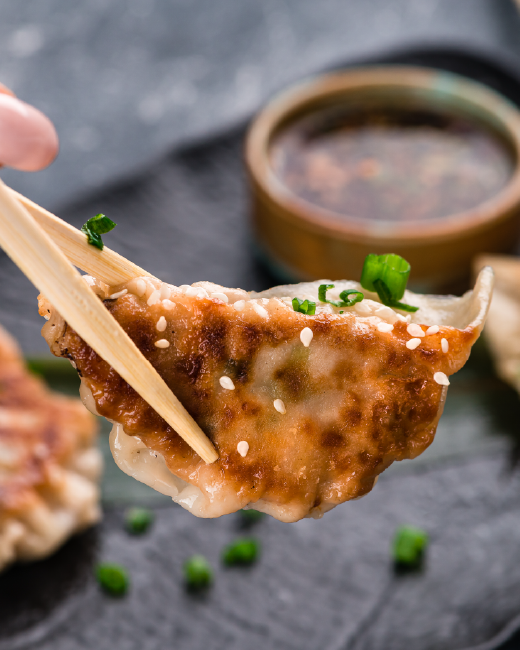 Servings

8-9 pers

Prep Time

40 mins

Cooking Time

30 mins
Veggie Dumpling
Our TVP (textured vegetable protein) formula is a must-have in your pantry. It's easy to cook and goes perfectly with your meals! Try these dumplings, they'll love them and ask for more!
Ingredients
Peanut sauce:
3/4 cup water
1/2 cup crunchy peanut butter
1 tbsp. honey
1 tbsp. soy sauce, approximately
1 tsp. toasted sesame oil
salt and pepper
Dumpling:
2 packs of dumpling pastry sheets (1 lb)
3/4 cup soy sauce
2 tbsp. peanut butter (can be replaced by sunflower butter)
6 shiitake mushrooms or mushrooms of your choice, finely chopped
2 garlic cloves, finely chopped
1 yellow onion, finely chopped
1/4 cup water
2 green onions, finely chopped (optional)
3-4 sprigs fresh coriander (optional)
75 mL canola oil (for cooking)
Recipe
PEANUT SAUCE:
1. In a saucepan, bring all the ingredients to a boil, stirring with a whisk.
2. Simmer gently for 2 to 3 minutes or until the sauce thickens.
3. Season with salt and pepper. Set aside.
DUMPLING:
1. Place the yellow onions, soy sauce and mushrooms in an oiled frying pan. Cook over high heat for two to three minutes.
2. Making a nest in the centre of the frying pan, add the green onions, garlic, peanut butter, spinach and coriander. Finish by adding 30 to 50 mL of water. Cook over high heat for around ten minutes. Remove from heat, add the veggie mince, stir, and leave to cool.
3. On a work surface, spoon 2 tsp of filling into the centre of each dumpling wrapper. Brush the edges of the wrapper with a little salted water and fold over to close into a half-moon shape. Gently press around the filling to avoid leaving air bubbles. Repeat for all the dumplings.
4. In a frying pan, heat the oil and cook the dumplings over a medium heat until the sides are golden brown and serve!
*Tip:

* These dumplings freeze wonderfully before being cooked. They last up to 2-3 months.
** To save time, use HAIKU shiitakes!