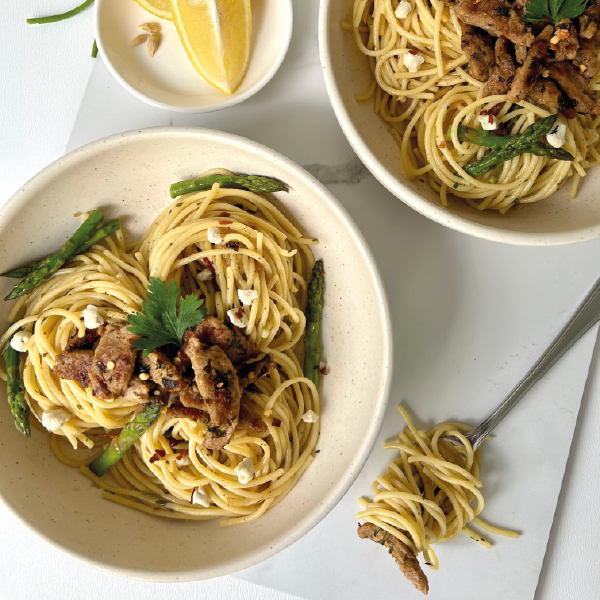 Servings

4

Prep Time

10 mins

Cooking Time

20 mins
Vegetable protein and asparagus spaghetti
A fresh take on everyone's favourite classic pasta combined with our TVP (textured vegetable protein) veggie fillets. An easy-to-cook recipe for any day of the week!
Ingredients
1 pack of spaghetti (410 g)
1 French shallot
1 bunch of asparagus
For the marinade:
½ cup olive oil
1 teaspoon jar minced garlic
2 tablespoons lemon juice
4 tablespoons finely chopped fresh parsley
½ teaspoon thyme
¼ teaspoon salt
⅛ teaspoon chilli flakes
Pepper to taste
Recipe
1. Combine all marinade ingredients in a container.
2. Add the So Veggie "So Wise!" Veggie fillets to the marinade and mix well. Set aside. *
3. In a large cauldron, bring water to the boil and cook spaghetti according to package instructions.
4. Meanwhile, chop the French shallot finely and cut the asparagus into pieces.
5. Fry the Veggie fillets in a pan at medium heat for 3-4 minutes. Keep the marinade; this will be the sauce for the spaghetti. Set aside.
6. Cook the French shallots and asparagus simultaneously for about 5 minutes over medium heat, until asparagus is tender-crisp.
7. Add the cooked spaghetti to the pan with the reserved marinade and Veggie fillets. Mix well.
8. Serve with goat's cheese or Parmesan and pepper to taste.
*Stir regularly during cooking and when preparing the other ingredients to mix the marinade with the Veggie fillets. If desired, marinate for 30 minutes.
A recipe signed Le pouvoir des plantes