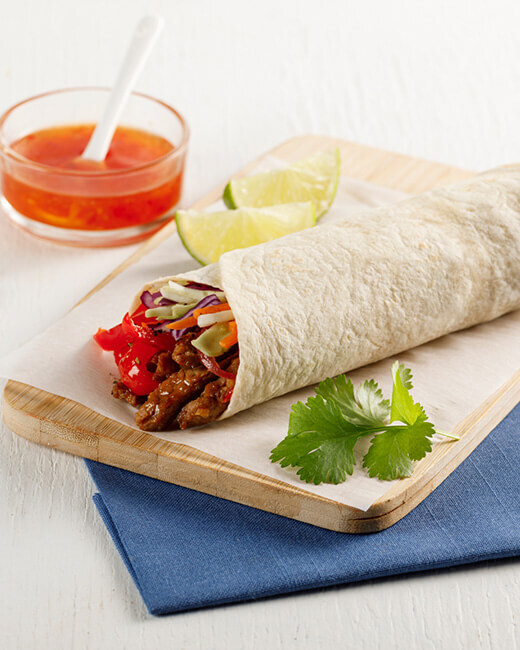 Servings

4

Prep Time

15 mins

Cooking Time

5 mins
Thai Wrap
This quick and practically effortless recipe is perfect for when you're in the mood for something refreshing and filling at the same time. Our Thai Veggie Wrap is full of flavour but not so full of ingredients. It's easy, quick and delectable, and it's also great for lunches and on the go snacks.
Ingredients
2 pouches So Veggie "So Wise!" Veggie Fillets
125 ml (1/2 cup) of sweet chilli pepper sauce
4 medium tortillas
375 ml (1 ½ cup) of vegetable blend for coleslaw
1 small red onion, minced
1 red bell pepper, sliced into strips
Recipe
1. In a skillet, heat a little canola oil over low-medium heat. Brown the So Veggie "So Wise!" Veggie Fillets for 2 to 3 minutes while stirring. Set aside on a plate.
2. In the same skillet, sauté the onion and the red pepper for 2 to 3 minutes.
3. Pour the sweet chilli pepper sauce and lime juice into the skillet. Bring to a boil. Add the Veggie Fillets and continue cooking for 1 to 2 minutes over low heat.
4. Top each tortilla with the Veggie Fillets and coleslaw vegetable blend. Roll up the tortillas while tightening them as you go.