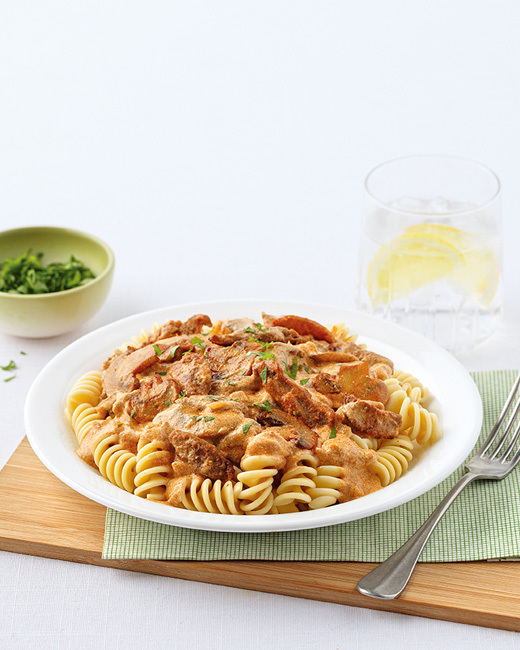 Servings

4

Prep Time

15 mins

Cooking Time

20 mins
Stroganoff-style Veggie Pasta with Mushrooms
Here is our version of the classic Stroganoff with So Veggie "So Wise! With 15g of protein in each bag of fillets, this version will be just as sustaining as the usual option! Conveniently stored in the pantry and ready to cook, the fillets can be added to stir-fries, salads, sandwiches or casseroles in a snap! Made with five healthy, natural ingredients, fillets are a great option for the whole family.
Ingredients
1 liter (4 cups) Rotinis
1 container (227 g) of White Mushrooms sliced
375 mL (1 1/2 cups) of Vegetable broth
250 mL (1 cup) of 14% sour cream
1 onion chopped
15 mL (1 tbsp.) of paprika
Recipe
1. In a saucepan of boiling salted water, cook pasta al dente. Drain.
2. In the same pan, heat a little olive oil over medium heat. Brown the meatless fillets for 1 minute on each side. Set aside on a plate.
3. In the same pan, cook onion and mushrooms for 2 to 3 minutes.
4. Add broth and paprika. Bring to a boil, then simmer for 5 minutes on low-medium heat, until liquid is reduced by half.
5. Add sour cream, then return pasta and meatless fillets to pan. Heat and stir for 1 to 2 minutes.
6. If desired, garnish with parsley just before serving.