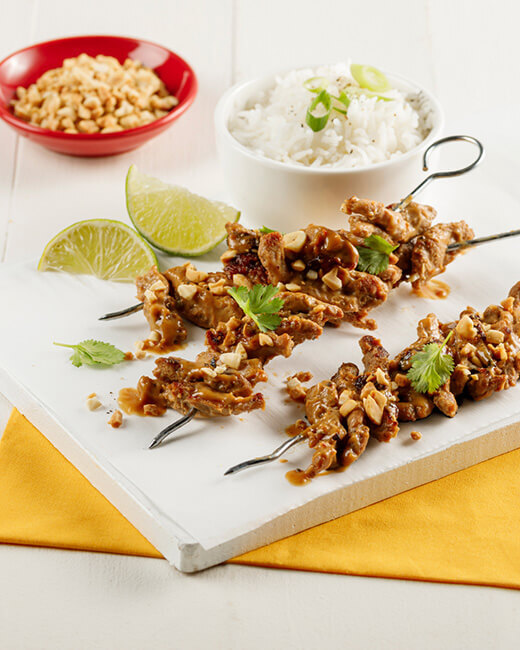 Servings

4

Prep Time

15 mins

Cooking Time

2 mins
Peanut and Chili Veggie Satays
Peanut and Chili Veggie Satays you say? These skewers are packed with a combination of salty, sweet, and spicy that will make your mouth water. It gives a great punch of different flavours from left and right. It is an absolute must-try!
Ingredients
60 ml (1/4 cup) creamy peanut butter
30 ml (2 tbsp) rice vinegar
½ Thai chili pepper, chopped
45 ml (3 tbsp) soya sauce
15 ml (1 tbsp) of sugar
45 ml (3 tbsp) of peanuts, chopped
Recipe
1. In a bowl, combine the peanut butter with the rice vinegar, Thai chili, soy sauce and sugar.
2. Brush the So Veggie "So Wise!" Veggie Fillets with the peanut butter sauce mixture.
3. Place the Fillets on eight small skewers.
4. In a large skillet, heat a little sesame oil on medium heat. Fry the skewers for 1 to 2 minutes on each side.
5. Garnish with chopped peanuts before serving.