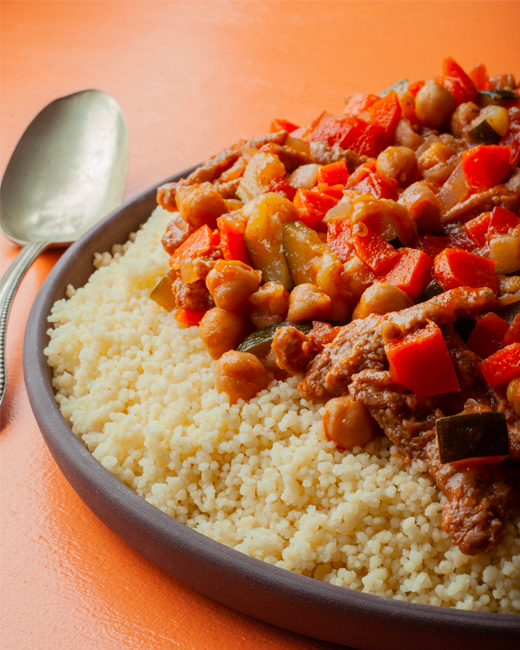 Servings

4

Prep Time

15 mins

Cooking Time

10 mins
Moroccan-style veggie couscous
Try something new with this updated classic couscous recipe - the SVSW way! Replace the meat with our plant-based protein to create an easy and oh-so-delicious meal tonight!
Ingredients
1 cup (200g) TIPIAK couscous
3 tbsp. olive oil
1 finely chopped onion
2 peeled and grated carrots
1 zucchini, diced
1 can of chickpeas, rinsed and drained
2 tomatoes, diced
1 tablespoon ras el hanout (or more to taste)
1 cup of water
2 tbsp. butter
1 salt
Salt and pepper (to taste)
Recipe
1. In a large saucepan over medium-high heat, heat the olive oil and cook the onion, carrots and zucchini for 5 minutes. Add salt and pepper to taste.
2. Add the chickpeas, tomatoes, garlic, ras el hanout and So Veggie "So Wise!" meatless fillets. Simmer for 5 minutes.
3. Meanwhile, in a small saucepan, pour the water, add the butter and tbsp. salt. Bring to a boil. Remove the pan from the heat, add the couscous and mix well. Cover and let swell for 5 minutes or until the couscous is cooked. Break up the cooked couscous with a fork.
4. When ready to serve, place the couscous at the bottom of the plates. Form a well in the couscous and pour in the mixture of vegetables and So Veggie "So Wise!" meatless fillets. Garnish with almonds, parsley and lemon wedges.