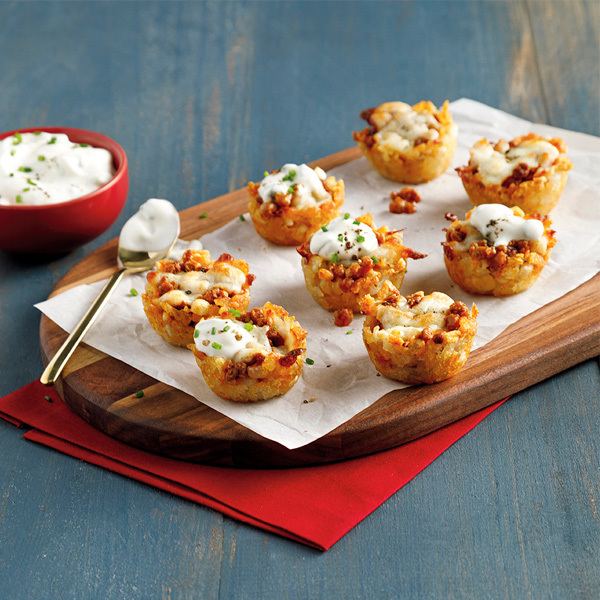 Servings

6

Prep Time

20 mins

Cooking Time

25 mins
Meatless Stuffed Tater Tots Cups
Ingredients
48 frozen crispy potato bites (Tasti Taters), thawed
5 mL (1 tsp.) barbecue seasoning
125 mL (1/2 cup) barbecue sauce
180 mL (3/4 cup) shredded sharp cheddar cheese
125 mL (1/2 cup) 14% sour cream 1 green onion, chopped
1 green onion, chopped
30 mL (2 tbsp.) chopped fresh chives
Recipe
1. Preheat oven to 205°C (400°F).
2. Place two bites of potato in each of the 24 cavities of a mini-muffin pan, then shape the potatoes into cups. Bake for 15 minutes.
3. In a bowl, mix Veggie Mince with the seasonings and sauce.
4. Divide the mixture among the cups and cover with cheese. Bake for 10 to 12 minutes.
5. Meanwhile, mix sour cream with green onion.
6. Just before serving, garnish cups with flavoured sour cream and sprinkle with chives.