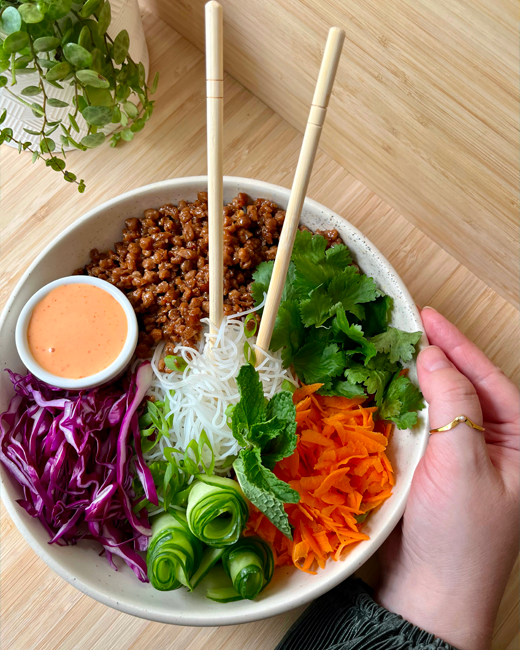 Servings

2

Prep Time

10 mins

Cooking Time

10 mins
Bol banh mi
This delicious banh mi bowl recipe is perfect for back-to-school as it takes less than 20 minutes to prepare. Get 2 recipes out of 1 by using Boston lettuce leaves to make it into lettuce wraps!
Ingredients
125 g rice vermicelli
FOR THE PROTEIN:
1 tbsp toasted sesame oil (for cooking)
¼ tbsp potted garlic
½ tsp chopped ginger in a jar
1 tbsp sweet Thai sauce
2 tsp hoisin sauce
FOR THE VEGETABLES:
1 medium carrot, grated
½ cup finely chopped red cabbage
¼ English cucumber
1 sprig green onion, chopped
6 mint leaves or to taste
¼ cup coriander
FOR THE SPICY SAUCE:
¼ cup mayonnaise
1 lime juice
1½ tbsp sriracha
* We recommend doubling the recipe if you want to make a larger quantity or if you want to make lettuce tacos with the ingredients too.
Recipe
1. Cook the rice vermicelli acccording to the instructions on the packaging.
2. In a frying pan over medium-high heat, sauté the garlic and ginger for 1 to 2 minutes in the toasted sesame oil.
3. Add the minced meat and toast for about 2 minutes.
4. Then add the Thai sauce and the hoisin sauce to the no-meat, stir well and continue cooking for about 1 to 2 minutes to caramelise.
5. Leave the minced meat to rest. Meanwhile, chop the vegetables and prepare the spicy sauce for the bowls by mixing the mayonnaise, lime juice and sriracha.
6. Combine the bowls and enjoy!